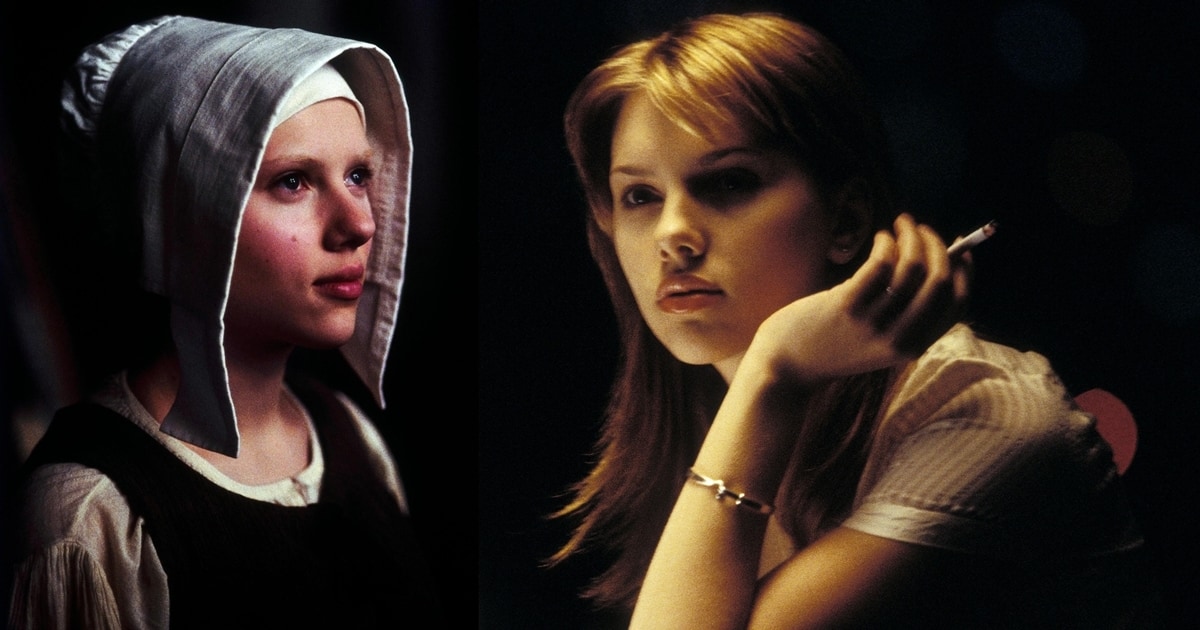 Scarlett Johansson is one of the most popular actresses of this generation. She is poised and powerful on-screen and plays roles that showcase her exceptional talent that transcends genres.
From thrillers to period dramas to action-adventure movies, she has excelled and proven she is one of the best in the world in her industry. Scarlett Johansson is also one of the top-grossing actresses in the world.
Born on November 22, 1984, in New York City, Ryan Reynolds' ex-wife was raised with her twin brother, Hunter. The youngest of four siblings, she was born to Karsten Johansson, an architect, and Melanie Sloan, a producer. She holds dual American and Danish citizenship.
By the age of seven, Scarlett was auditioning for commercials and taking dance and tap classes. Her parents enrolled her in Les Strasburg Theatre Institute and the Professional Children's School in Manhattan, which is famous for acting alumni like Carrie Fischer, Rita Moreno, and Sarah Michelle Gellar.
When she was eight, she performed in an Off-Broadway production called Sophistry, and by nine years old, she appeared on the big screen in North (1994). At the age of 13, she earned praise for her role in The Horse Whisperer (1998). So far in her career she has been in over 60 movies and has had over 200 nominations and over 130 wins.
Though Scarlett Johansson is famous for her movie performances, she has also earned critical acclaim for her performance on Broadway.
She won a Tony Award for Best Actress for her role in A View from the Bridge (2010) and played in the Pulitzer Prize-winning production of Cat on a Hot Tin Roof. Scarlett Johansson has also done a few voice-acting roles for animated movies.
The following is a list of Scarlett Johansson's top ten movies, according to the critics at Rotten Tomatoes:
10. Girl with a Pearl Earring (2003) – 73% Rating
Though Scarlett Johansson was only 17 during the filming of the Girl with a Pearl Earring, her performance is noted as one of her best for the maturity with which she handled the layered character of Griet.
In the period drama, Johansson plays a peasant worker employed by the renowned Dutch artist Johannes Vermeer. The story is about the tension between their social class and their friendship.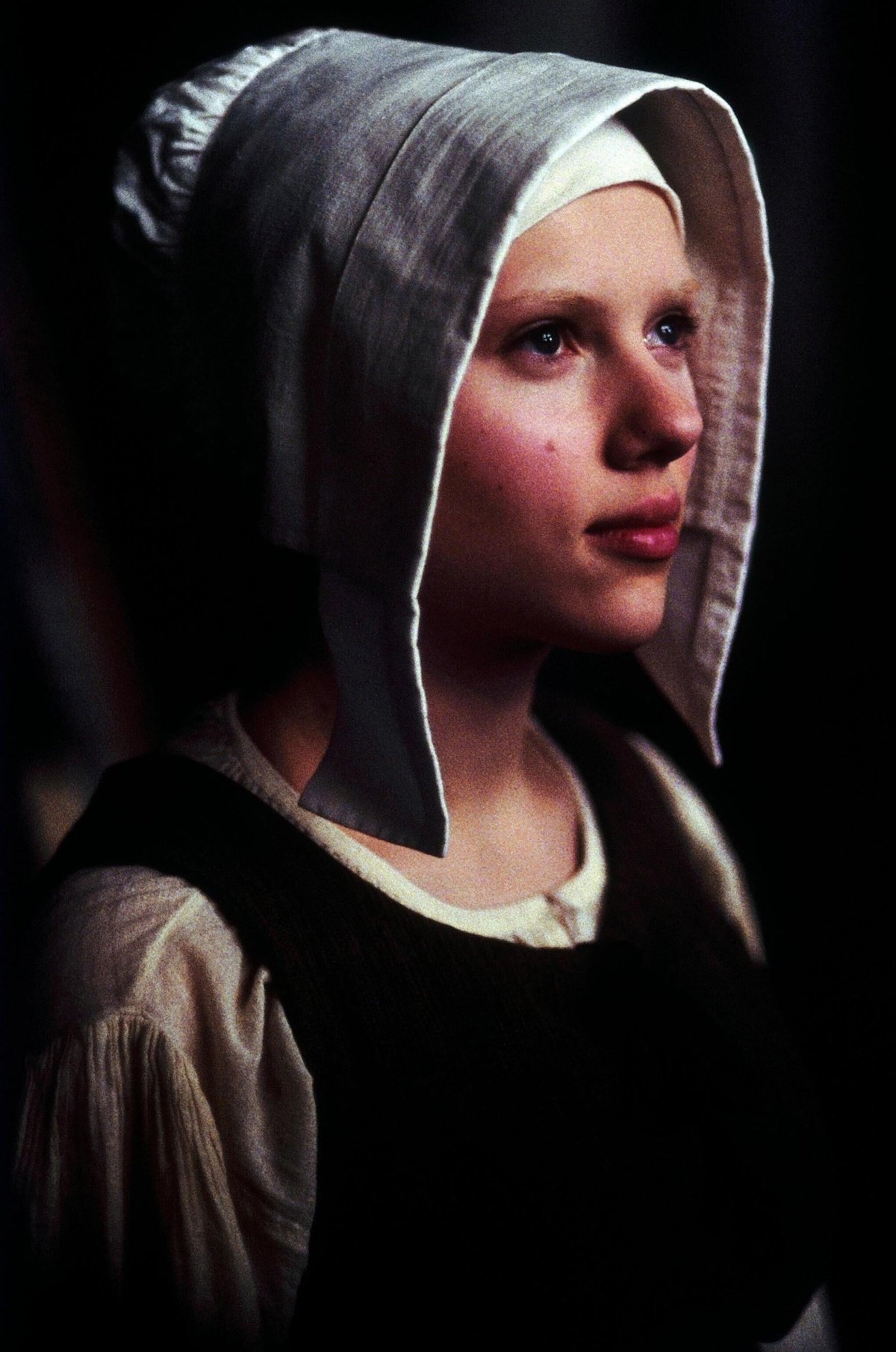 Scarlett Johansson was only 17 when she was cast in the role of Griet in the 2003 drama film Girl with a Pearl Earring (Credit: Lions Gate Films)
She is hired to be an assistant and poses as a model. With borrowed pearl earrings from the artists' mother-in-law, the picture becomes one of the hallmark masterpieces of the Dutch painter.
The movie was released in theaters on January 9, 2004, when Scarlett was 19 years old.
9. Match Point (2005) – 77% Rating
Match Point is a philosophical thriller. While most movies feature layers of good and evil, Match Point addresses the complicated issues of class and infidelity with a cast of characters who all struggle with their own moral vacancy.
Scarlett Johansson plays the role of Nola Rice, an American from Colorado who has gotten involved in London society.
Scarlett Johansson stars as Nola Rice in the 2005 psychological thriller film Match Point (Credit: DreamWorks Pictures)
When things start to fade with her boyfriend she gets caught up in an affair with another man. The movie premiered in Cannes on May 12, 2005, when she was 20 years old.
8. Hail, Caesar! (2016) – 85% Rating
Scarlett Johansson plays the role of DeeAnna Moran in the 1950's era movie Hail, Caesar!. It is a quirky, comedic period drama about a fixer who helps scandal-plagued actresses like DeeAnna Moran who was knocked up by a fellow actor.
Blonde bombshell Scarlett Johansson wears a zebra print bathrobe on the set of Hail, Caesar! in downtown Los Angeles on January 16, 2015 (Credit: Cousart / JFXimages / WENN)
The movie is based loosely on the life of Esther Williams, who was a competitive swimmer-turned-actress. An antique MGM tank was found and used for the movie, which was the first time it had been used since Williams had used it in the 1950s.
The movie was released on February 5, 2016, when Scarlett Johansson was 31 years old.
7. Under the Skin (2013) – 84% Rating
In the sci-fi movie, Under the Skin, Scarlett Johansson plays an extraterrestrial who attempts to lure unsuspecting men into her van.
Set in Glasgow, Scotland, the low-budget film features the celebrity twenty-nine-year-old actress alongside a lot of normal people on the street.
Scarlett Johansson as an otherworldly woman who preys on men in Scotland in the 2013 science fiction film Under the Skin (Credit: BFI / Film4)
The film crew was known to jump out of the filming van with disclosure paperwork for people to sign. Simply called "The Female" with hardly any lines, the movie features Scarlett Johansson prowling the streets of Scotland as a man-eater.
It was a movie that received a lot of mixed reviews; some really loved the film while others really hated it.
The extremely mixed reaction to the movie was for director Jonathon Glazer, "The best reaction… the most amazing sound I've ever heard in my life."
It featured a limited release in theaters on April 4, 2014, and was released to streaming on July 15, 2014. Scarlett Johansson celebrated her 30th birthday on November 22, 2014.
6. Jojo Rabbit (2019) – 80% Rating
Set in World War II Germany, Jojo's Rabbit is an anti-hate satire that tackles profound ideas with irreverent humor. Scarlett Johansson's character, Rosie, is a single mother hiding a Jewish teenager in her attic.
She uses wit and mischief to keep her son from falling prey to Nazi nationalism as her son is fascinated with the furor.
Scarlett Johansson plays Rosie, Jojo's mother who is secretly anti-Nazi, in the 2019 comedy-drama film Jojo Rabbit (Credit: Avalon / WENN)
Recently divorced, Johansson drew from her new experience as a single mother into her role. The character is one of Johansson's, age 34, first film roles as a mother.
She heard of the movie from her Avenger's co-star Chris Hemsworth who was raving about the director's "unbelievably touching, unique, fresh script."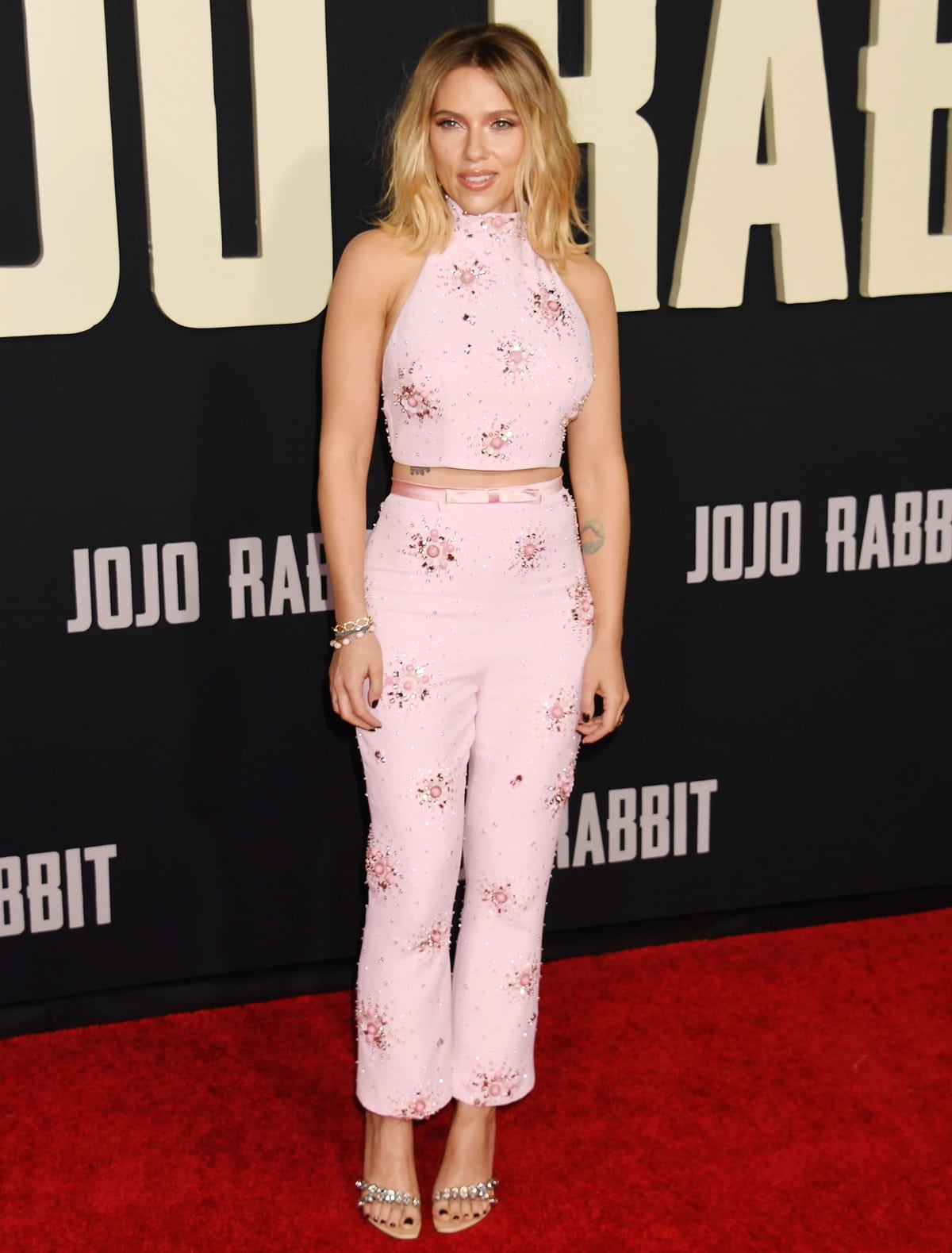 Scarlett Johansson wears a Miu Miu ensemble with flowers embroidery details with crystals all over at the premiere of Fox Searchlights' "Jojo Rabbit" at Post 43 on October 15, 2019, in Los Angeles, California (Credit: Avalon / WENN)
Though the script was complete by the time she signed onto place Rosie, she added her own experiences to the character to bring a layer of depth and poignancy to her character. The movie was released in theaters and on streaming on November 9. 2019.
5. Ghost World (2001) – 93% Rating
Ghost World was Scarlett Johansson's breakthrough role in film acting. She acted in the movie that later became a cult classic when she was 16 years old.
The comedy features a pair of friends, navigating post-high-school graduation life who are faced with deciding what they want in life.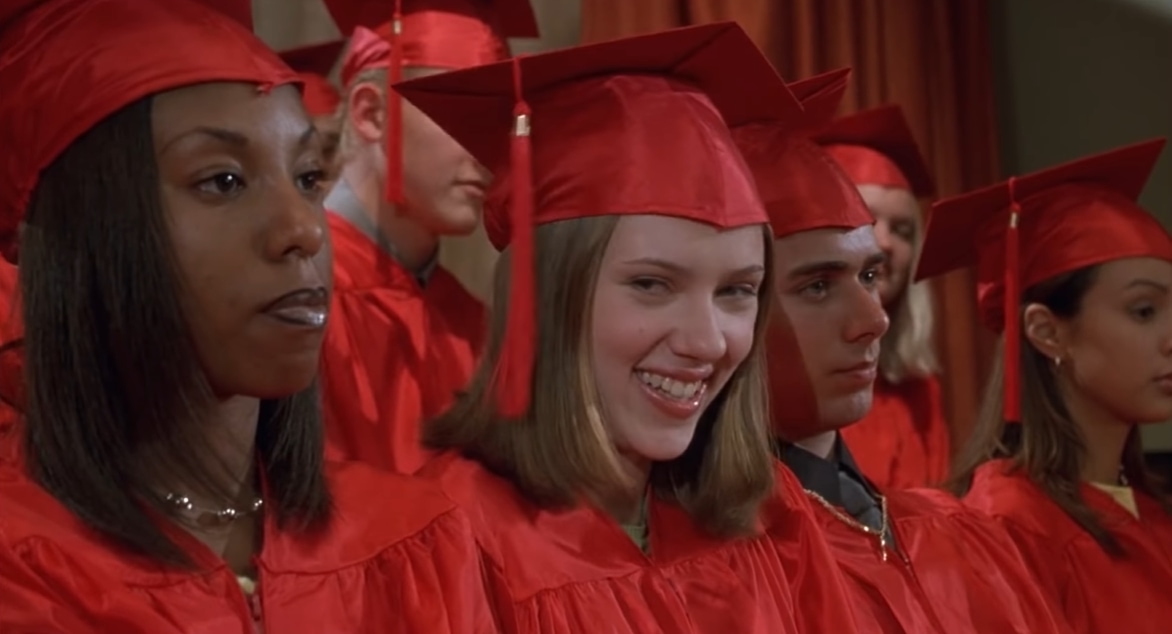 Scarlett Johansson as Rebecca Doppelmeyer in the 2001 black comedy film Ghost World (Credit: United Artists)
Johansson wanted to play in this teenage life drama because she felt that the characters were real and had depth as the friends are forced to deal with the emotional turmoil of a disintegrating friendship in the light of accepting adult responsibilities.
The movie debuted at the Seattle International Film Festival in 2001 when she was 17 years old.
4. Marriage Story (2019) –  94% Rating
In the Netflix Marriage Story, Scarlett Johansson plays the character of Nicole. Nicole is a once-famous actress who is forced to rediscover herself amid divorce from her husband, who is a theater director.
It is an emotional journey of lost love that features deep emotions like loneliness, an emotional breakdown, and feeling lost.
The movie had a particular timing as Scarlett Johansson, age 34, had just come through a divorce in her own personal life. At the time of filming, she felt that she was in a "more settled place" and could use her feelings for her role in the movie.
Marriage Story had a limited release in theaters on November 6, 2019, with a streaming release date of December 6. 2019. Rotten Tomatoes gave the movie a score of 94%.
3. Her (2014) – 94% Rating
Though not a live-acting role, Scarlett Johansson's role in Her is still powerful and dynamic. She plays the character of Samantha, a voice for the main character's new operating system.
As the main character, who makes living writing letters for other people, becomes fascinated with the unique voice for this operating system, he discovers that "Samantha" is sensitive with a playful personality.
The movie was released on January 10, 2014, when the actress was thirty years old and received a Rotten Tomato score of 94% and an audience score of 82%. Critics agree it is a sweet, soulful, and smart look into modern human relationships.
2. Marvel Universe (2010 – present) – Rating 94%
Scarlett Johansson featured her first explosive entrance into the Marvel Cinematic Universe in 2010 Iron Man 2. Her first real role came in Natasha Romanoff, a.k.a Black Widow when she aligned herself with the superheroes in Avengers in 2012.
In all the subsequent movies, she plays the superhero who is an expert spy and tactician who is a master martial artist who is an expert in marksmanship and hand-to-hand combat.
The Black Widow is also a skilled hypnotist with an enhanced immune system. All in all, Scarlett Johansson is the most badass woman in the Avengers and had the opportunity to continue to develop her impressive character through the decades, with fans and critics alike never growing tired of her performance.
Johansson showed her determination to win the role of the Black Widow in the Marvel movies by dyeing her hair red for auditions to convince producers she was right for the job. The Marvel series was not the first superhero role she tried out for. She actually auditioned for the part of Sue Storm in Fantastic Four but lost out to Jessica Alba.
Her character, the Black Widow, was featured in the movies Iron Man 2 (2010), The Avengers (2012), Captain America: The Winter Soldier (2014), Avengers: Age of Ultron (2014), Captain America: Civil War (2016), Avengers: Infinity War (2018), a cameo in Captain Marvel (2019), Avengers: Endgame (2019) and a movie featuring her own story, the Black Widow (2021). She won awards for her role as Black Widow like the People's Choice Awards, MTV Best Fight Award, and Teen Choice Award.
All of her Marvel Universe performances landed in the top ten movies. Rather than feature each of her films with the same role, this article chose to feature her wide variety of top-rated performances while still recognizing her prevalent role in the Marvel Universe as Black Widow.
Though she is a superhero on the big screen, as the Black Widow, in several of Marvel's Avengers movies, she dreamed of being a Disney princess once upon a time. Frozen is one of her favorite Disney movies and she once commented that it would be fun to a Broadway version of Frozen.
1. Lost in Translation (2003) – 95% Rating
In the critics' favorite movie, Scarlett Johansson receives an impressive score of 95% for her role as Charlotte in the film Lost in Translation.
The movie was released on September 12, 2003, when the actress was only 18 years old. It was one of her first movies with an adult role and she recounts feeling a little out of the loop while filming the movie.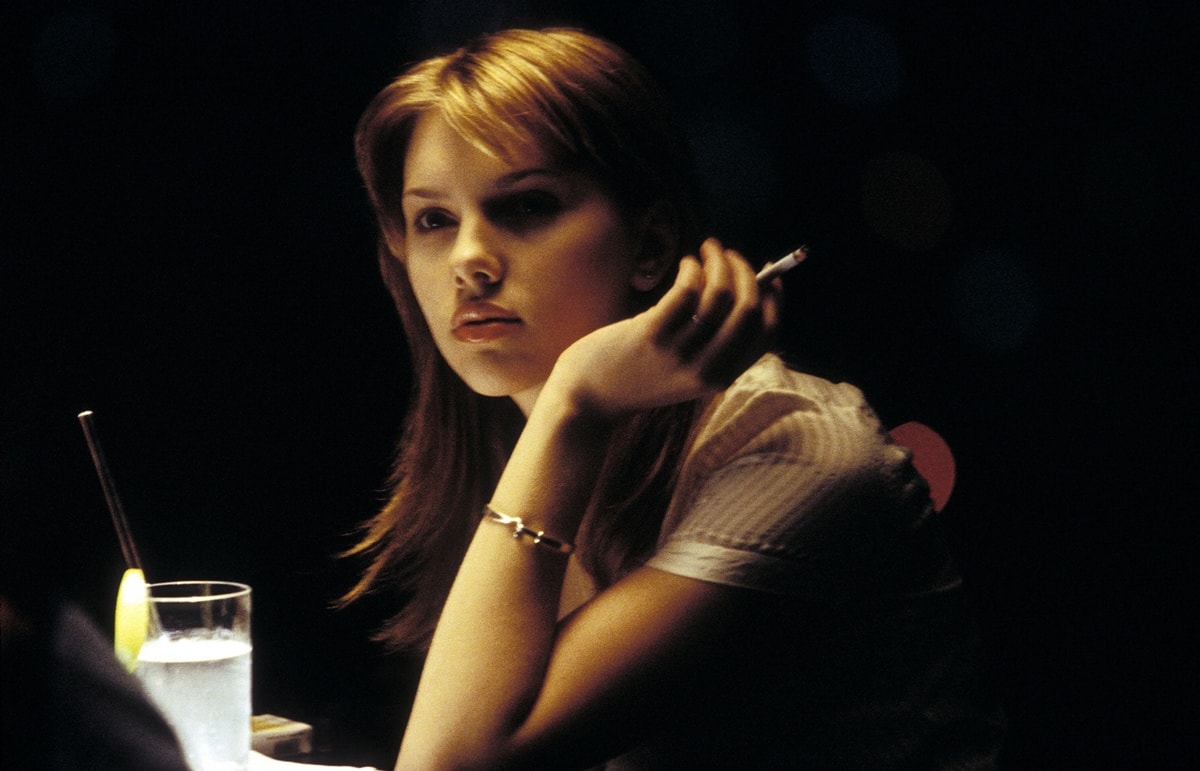 Scarlett Johansson as recent college graduate Charlotte in the 2003 romantic comedy-drama film Lost in Translation (Credit: Focus Features)
The age gap between Johansson and her co-star Bill Murray and his often-eccentric personality made it even more difficult for her as he was prone to intense mood shifts. Johansson was 17 when the movie was filmed. Bill Murray is 34 years older.
"It was hard; it was a hard shoot for me," Johansson said in a 2017 interview with Howard Stern. "… I felt sort of out of the loop. I was 17 years old when I made that movie, you know."
"I think it was because, you know, he kind of has his — he's a comedian, he's quirky … and he had a lot of, like, ups and downs, and he had a lot of energy, and he was really, like, kind of always on," Johansson added.
"And I was, you know, a 17-year-old, and I was sort of like — I was more introspective, I guess. … Yeah, it was hard for me. I think that's what was kind of isolating about it — is that everybody was so deferential [to Murray]."
Scarlett Johansson was 17 years old when she filmed "Lost in Translation" with her 51-year-old co-star Bill Murray (Credit: Focus Features)
"I was relaxed. … I was kind of in a different headspace, and it was hard to relate to one another," Johansson concluded. "But I think, you know, what worked is that when the cameras were rolling and we actually came time to do the work, we worked really well together."
Both in Tokyo at the same time, the couple portrayed by Johansson and Murray learns to form a bond as they attempt to escape the strain of adapting to a new culture. They find a more profound relationship that is meaningful and heartfelt.
Despite their personality differences and Johansson's learning curve with an adult role, Murray and Johansson had a chemistry that translated well to the screen.
Scarlett Johansson and Sofia Coppola at the premiere of Lost In Translation held at the Odeon Luxe West End in London, England, on October 28, 2003 (Credit: WENN)
They performed together really well when the cameras were rolling, and their acting made the movie an indie movie classic which won an Oscar for Best Original Screenplay, and she won a BAFTA Award for Best Actress for her role as Charlotte.
"Nobody had any idea what the film was going to be like," Johansson said about the movie's success.
"I mean, probably our DP Lance Acord knew what it was going to be like, but I didn't even know it would — you know, nobody knew that it would be so profound, I think. … I mean it was just kind of abstract, you know. It wasn't immediately clear what we were capturing."
Scarlett Johansson at the 2015 Film Independent Spirit Awards at the beach in Santa Monica on February 21, 2015 (Credit: WENN  / Michael Wright)
In February 2015, Scarlett Johansson joined Kerry Washington, Emmy Rossum, Emma Stone, and Kristen Bell at the 2015 Film Independent Spirit Awards held on the beach in Santa Monica.
The then 30-year-old actress came dressed in a little black dress from the Bec & Bridge Pre-Fall 2015 collection and carried a gold Oroton clutch.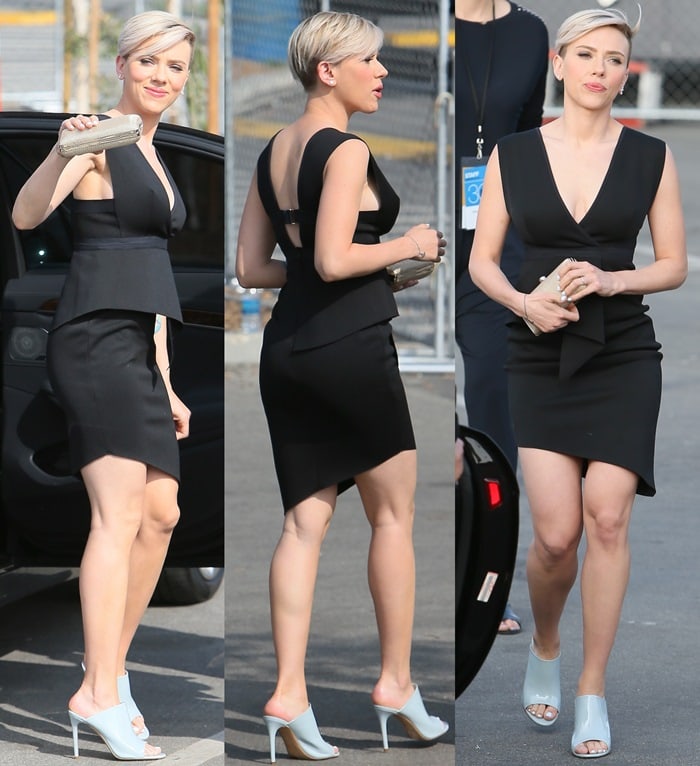 Scarlett Johansson paraded her hot legs in a sexy black dress (Credit: WENN  / Michael Wright)
While we love Scarlett's haircut and the plunging neckline of her dress, we don't think her Pedro Garcia mule shoes were the right choice for an award show.

Scarlett Johansson showed off her toes in Pedro Garcia mules (Credit: WENN  / Michael Wright)
Do you dislike Scarlett Johansson's Pedro Garcia mules as much as we do? You can find much more exciting shoes from the Spanish designer at Nordstrom and Zappos.
Pedro Garcia Matilda Swarovski Crystal Pavé Sandals, $645